Seneca C&D Landfill:
Address:
15031 Wells Hwy
Seneca, SC 29678
Hours:
Monday - Saturday
7:15AM - 3:45PM
All must enter before 3:30PM
All must exit by 3:45PM
Mulch Sales at Landfill:
Hours:
Wednesday - Friday
7:30AM - 12:00PM
12:45PM - 3:00PM
Subject to availability
(Call before you come)
COVID19 Press Release - 08/13/2021 (PDF Version)
---
Oconee County Solid Waste to Accept Certain Plastic Recyclables
Oconee County Solid Waste is thrilled to announce that all Recycling Centers will resume the recycling of certain plastics, effective September 13, 2021.
Bottles, jars and jugs, classified as Type 1 (PETE) and Type 2 (HDPE) plastics will now be accepted at Oconee County Recycling Centers. Residents may easily identify these items by checking the bottom or side of plastic containers for the following symbols: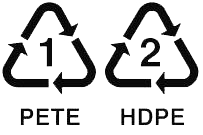 Residents should remove lids and thoroughly rinse containers prior to visiting Oconee County Recycling Centers. Contaminated plastics may impact Oconee County's ability to recycle products.
In May 2020, global recycling markets plummeted as a result of the COVID-19 pandemic. Since then, Oconee County continued to research viable markets and opportunities for plastic recycling. Over the past few months, domestic markets began accepting limited plastics based on manufacturing company needs.
Plastic bags, Styrofoam, clamshell containers, lids and plastics identified as Types 3 through 7 will not be accepted at this time. As recycling markets open up, more types of plastic may be accepted in the future.
Oconee County would like to thank citizens and residents who are committed to recycling and reducing the amount of waste sent to landfills. Oconee County recognizes your efforts and greatly appreciates your patience and understanding at this time.
---
Oconee County Recycling Centers:
Are for household trash and recyclables use only. All recyclables should be as clean as possible and not contain food, liquid, dirt, etc. All recyclables should be placed in the appropriate container at the recycling centers.
Please Note:
Any waste not disposed of in the proper container on Oconee County property, will be considered open dumping and investigated by Oconee County Sheriff's Office.
Items Accepted At Recycling Centers:
Aluminum Cans
(Only aluminum beverage containers accepted.)
Antifreeze
(No additional fluids allowed.)
Appliances And Scrap Metal
(All appliances with metal parts including stoves, washers, dryers, bikes, refrigerators, grills, clothes hangers, steel cans, and pots. NO electronics.)
Batteries, Lead Acid
(Used automotive, marine, and lawn mower.)
Batteries, Rechargeable
(Batteries from small electronics; NO alkaline batteries.)
Cardboard
(Clean and dry, NO Styrofoam or plastic.)
Cooking Oil
(Cooking oil ONLY. Lard is NOT accepted.)
Electronics
(Accepted at the donation boxes; only flat screen televisions and monitors
(no CRT's). Please see attendant with questions.)
Eyeglasses And Hearing Aids
Glass
(Clear, green, and brown glass bottles and jars are accepted; NO mirrors, light bulbs, window panes or tempered glass.)
Mixed Paper
(Copy paper, packing paper, paper bags, cereal-type:boxes and junk mail; NO paper towels, tissues, or food wrappings)
Newspapers
(Dry newspapers; NO paper towels or food wrappings.)
Oil
(Motor oil, transmission fluid, hydraulic fluid.)
Used Motor Oil Filters And Bottles
Plastic
(Rinsed plastic beverage bottles, jars, and jugs.)
Textiles
(Clean clothes accepted at the donation boxes.)
Mattresses(*only at Strawberry Farm Recycling Center)
Seneca Construction & Demolition (C&D) Landfill:
Acceptable Items:
Yard Debris
Land Clearing Debris
Construction And Demolition Debris
Furniture
Fiberglass Boats (cut Into 4 Ft. Sections)
Pool Liners.
Unacceptable Items:
Household Trash
Electronics (including Televisions)
Cardboard
Metal
Liquid Paint Or other Liquids
Friable Asbestos
Pcb's
Items That Have been In Contact With Petroleum, Pesticides, preservatives, Or Solvents.
Non-Friable asbestos is accepted. Fees and DHEC disposal permit do apply.
For an asbestos permit please call DHEC at 803-898-4289. For more detailed information about disposing of non-friable asbestos please call 864-888-1440.
Littering And Open Dumping: Littering and illegal dumping should be reported to the Sheriff's Department at 864-638-4111 or oconeelaw.com.
Burn Barrells: Burning trash is illegal. Like our open burning brochure says "lf it doesn't grow, don't burn it". For open burning of yard debris outside city or town limits, you should call the toll free number for the county in which you live. A list of these numbers can be found on the internet.